An exhibition proposed by design historian Thibault Lannuzel which presents a still little-known avant-garde of French design ...
Exhibition GENERATION USEFUL FORMS
Les Designers Français à l'âge de la croissance (1945 - 1973)
From December 2 to 5, Les Puces du Design 2021 edition invites you to discover the Génération Formes Utiles exhibition: the alliance of the creator and the industrialist for the right forms and the affirmation of the beautiful in the useful curated by design historian Thibault Lannuzel.
For several years, Les Puces du Design has distinguished itself by setting up a tribute exhibition to a key figure in the history of design. After Pierre Paulin in 2016, Ettore Sottsass in 2017, Olivier Mourgue in 2018 and the Sabine Sautter collection in 2019, it is the turn of the figure of Patrick Favardin to be put forward. We owe in particular to this author of reference books and post-war design historian who died in 2016, the rediscovery of the work of a whole generation of designers - interior architects who left their mark on the design history of the second half of the 20th century.
The objective of this event is to discover, through a documented journey and a selection of significant pieces, the work of a whole line of young French designers who will mark during the period of growth more commonly known as the Trente Glorieuses (1945-1973) the French landscape in the areas of production model creation and interior fittings.
This generation will endeavor to promote design from the end of World War II, building on the doctrine of social functionalism defended earlier by their elders: Jacques Dumond, René Gabriel, Marcel Gascoin and Louis Sognot. Great figures of Reconstruction, members of UAM who will train them on the school benches or in their agencies where these young creators will take their first steps.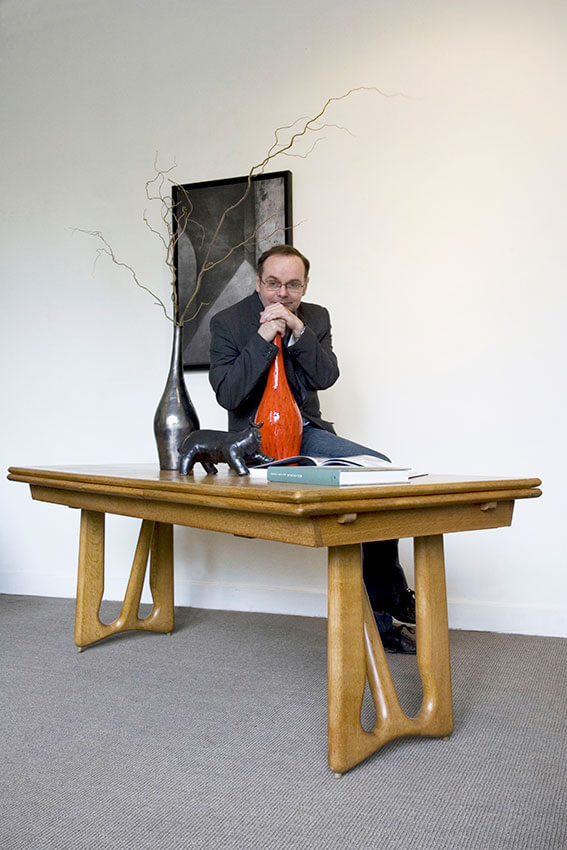 Portrait of Patrick Favardin © Laurent de Verneuil
Contemporary of the iconic figures such as Jean Prouvé, Charlotte Perriand and Le Corbusier, this young avant-garde that we invite you to discover, has been adding awards and distinctions for more than two decades. During this period, these creators turn out to be key figures in France; they work on large-scale interior design programs with renowned architects or the Mobilier National and offer another vision of modernity, that of French rationalism, of mass production stripped of all artifice, and more generally of the alliance of the creator and the industrialist for the right forms and the affirmation of the beautiful in the useful.
In addition, these creators contribute to the emergence of the status of designer; a new profession which consists in designing furniture and interior fittings that are of high quality, functional and accessible to all.
As such, this founding generation deserves to be part of the genesis of a profession and a discipline from which we are still learning today.
The exhibition will retrace their journey by staging around sixty pieces: furniture, seats and lights which illustrate, through the use of new materials or the use of an original manufacturing technique, a repertoire of reinvented forms that justify their use. place in the history of French historical design.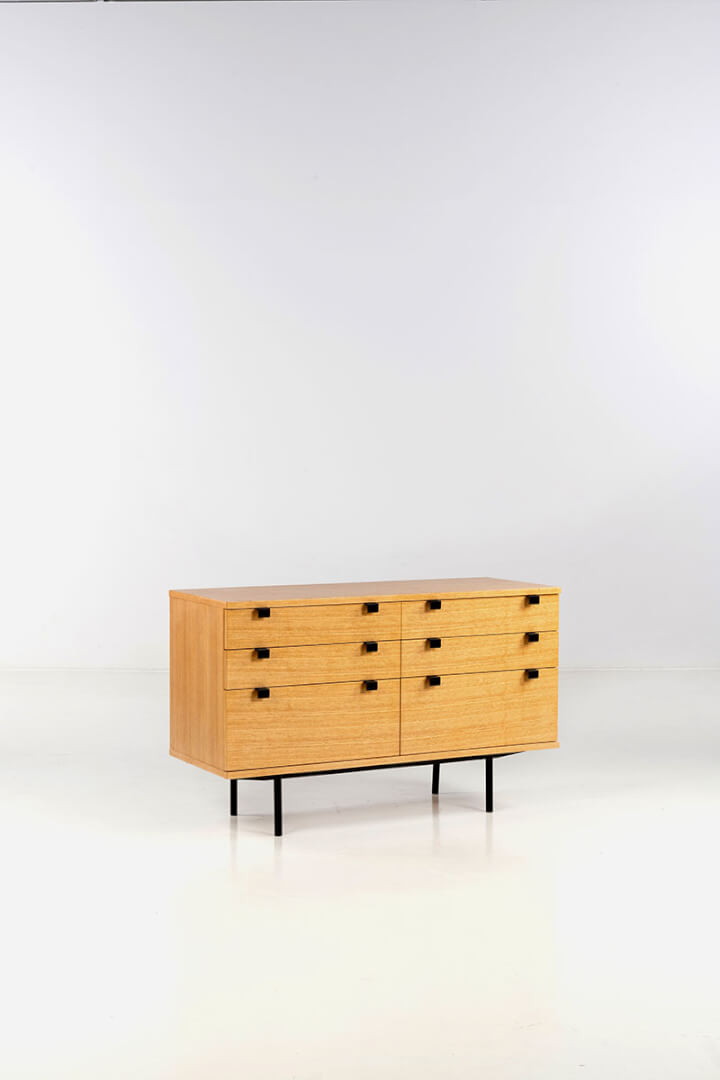 Commode 220 - Alain RICHARD - Aroud 1954 © Xavier Defaix
List of the designers :
Janine Abraham, Dirk-Jan Rol, ARP, René-Jean Caillette, Georges Frydman, René Gabriel, Jacqueline Lecoq, Marcel Gascoin, Pierre Guariche, André Monpoix, Michel Mortier, Joseph-André Motte, Pierre Paulin, Antoine Philippon, Alain Richard...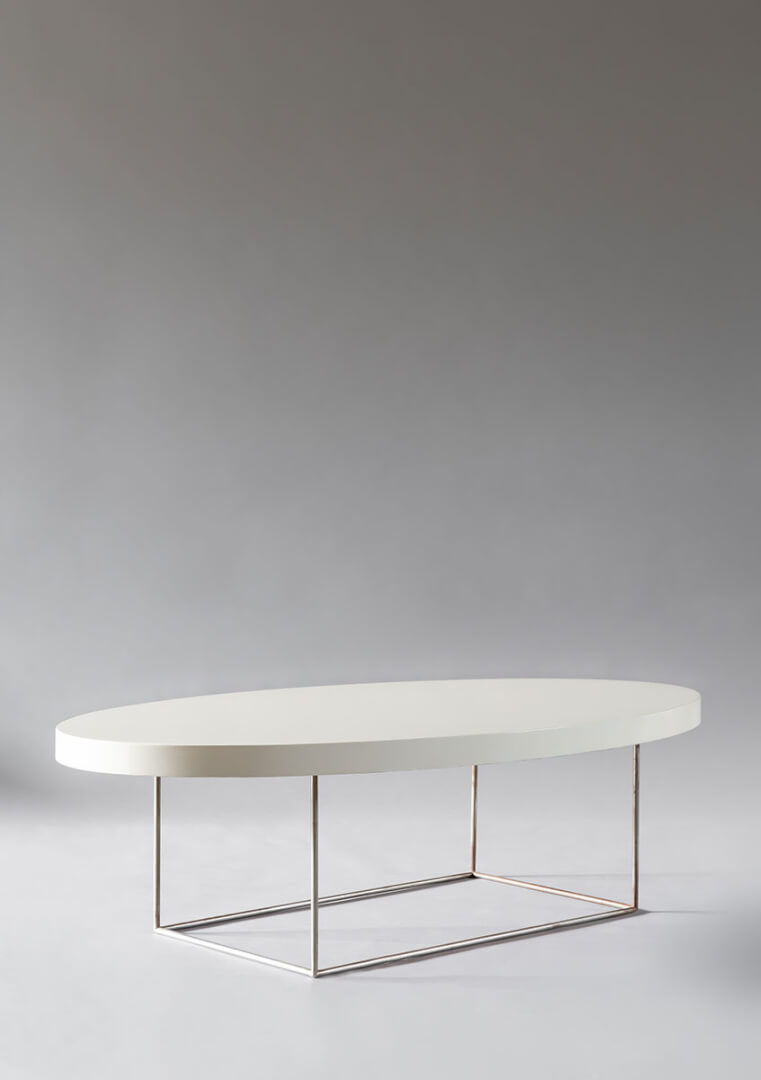 Prototype of coffee table - René-Jean CAILLETTE - 1958
Photographer Xavier Béjot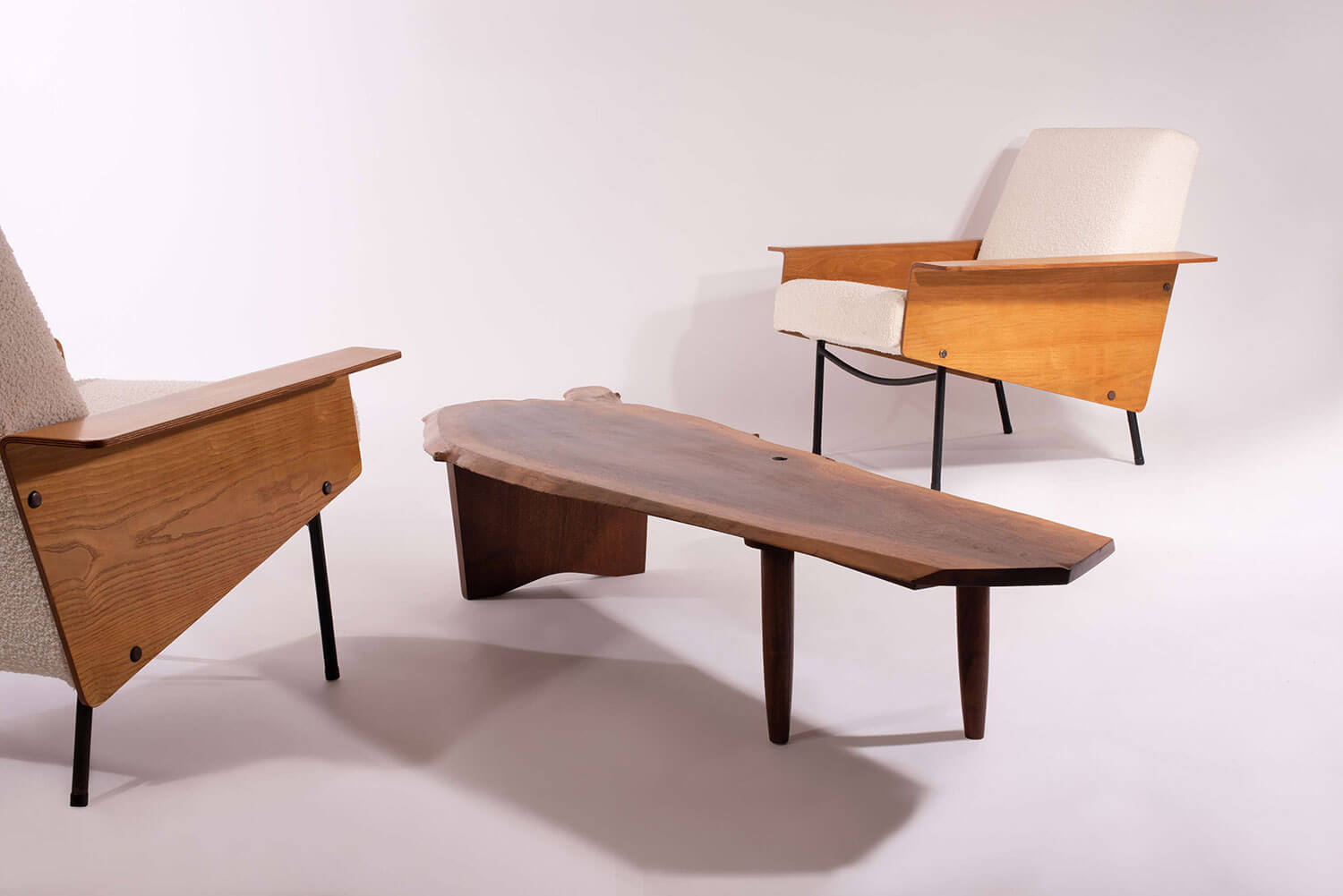 Armchair G10 bis by Pierre Guariche - 1953 © Artcurial - photographer Marc Chatelard
The exhibition will also highlight the rare G10bis seats (1953) with armrests in molded thermoformed plywood and SG10 from 1960 in original Placide Joliet fabric by Pierre Guariche, the Djinn lounge chair by Olivier Mourgue (1964) which offers by the use of latex foams and new stretch fabrics, innovative curves. An astonishing table attributed to Georges Frydman EFA edition around 1965 or even a rare table model by Roger Tallon edited by Flambo (1968).
The personal coffee table by René-Jean Caillette (1958) will be presented, a unique piece, of which Patrick Favardin will be responsible for leading the succession when the creator passes away, the 242P wall lamp by Robert Mathieu (1960) both designer and manufacturer who uses metallic lacquers hitherto used exclusively in the automotive sector, the pair of 151 low chairs in isogaine, synthetic latex thread, by André Monpoix (1954), the 200 table by Alain Richard (1955) at the extension unique in black laminate or from the same designer the imposing double light pole A24 (1960).
Thibault Lannuzel
For more than ten years, Thibault Lannuzel has devoted himself ardently to the promotion of the decorative arts of the twentieth century and post-war design as an antique expert and doctor in Art History. After a doctoral thesis devoted to French design at the National Institute of Art History of the Sorbonne, he joined as an expert the Company of French Experts in Antiquities and henceforth devoted himself to expertise, writing publications, curating exhibitions and brokerage in the field of 20th century Decorative Arts and French historical design.